MiCA: A Game Changer for the European Crypto Ecosystem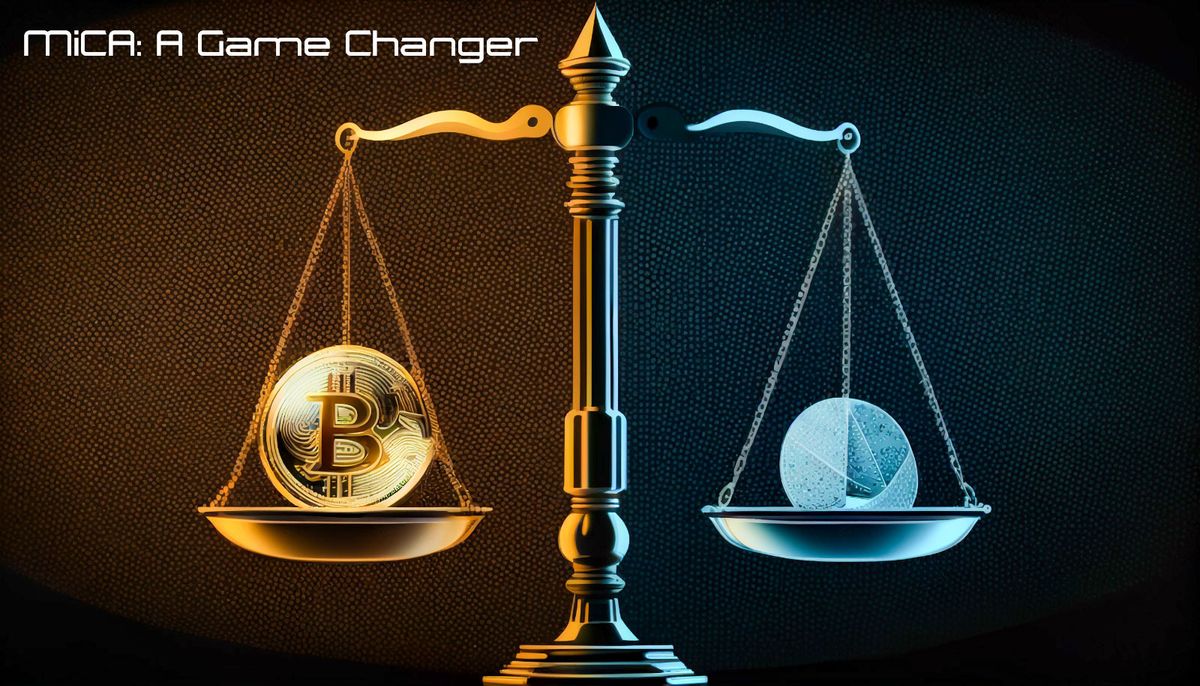 On Thursday, April 20th, European lawmakers approved the Markets in Cryptoassets (MiCA) regulation, marking the first time that the European Union has established a comprehensive legal framework to govern the rapidly growing crypto industry. Previously, crypto companies had to navigate 27 distinct regulatory frameworks across EU member states, hindering their growth and competitiveness.
MiCA introduces a harmonized EU-wide regulatory system, enabling companies to operate across the entire EU crypto market with a single MiCA license. The legislation is expected to come into force in July, with specific provisions, such as those governing stablecoins, set to apply from July 2024.
A New Era of Crypto Governance in the EU
Developed over three years, MiCA has garnered support from crypto executives as a preferable alternative to the US approach, which primarily relies on enforcement actions to regulate the sector. Critics, however, argue that the law is already outdated and unable to prevent recent high-profile crypto failures, prompting calls for updates.
Upon implementation, MiCA will require all companies offering crypto-related services within the EU to register in one of the bloc's member states, allowing them to operate across the entire region. The European Banking Authority (EBA) and the European Securities and Markets Authority (ESMA) will be responsible for ensuring crypto platforms comply with the rules, including maintaining adequate risk management and governance processes to prevent collapses similar to the FTX exchange.
The Global Impact of MiCA and the European Crypto Market
Establishing a unified EU-wide regulatory framework will likely attract digital asset companies to the bloc and encourage other jurisdictions to follow suit. According to Alisa DiCaprio, chief economist at enterprise blockchain firm R3, Europe has been steadily capturing crypto venture capital investment market share from the US. She expects countries like the UK and the US to accelerate their crypto regulatory efforts in response to MiCA.
The introduction of MiCA aims to address the fragmentation that has plagued the European crypto industry. By providing a clear and consistent legal framework, the regulation will significantly reduce the barriers for companies operating within the European Union.
MiCA 2.0 - Addressing Gaps in MiCA Regulation ?
Although MiCA has received preliminary approval, it does not cover several critical aspects of the crypto sector, such as crypto lending, decentralized finance (DeFi), and non-fungible tokens (NFTs). High-profile figures, including European Central Bank President Christine Lagarde, have already called for a "MiCA 2" to address these gaps.
Furthermore, crypto firms have criticized MiCA's regulation of stablecoins, which requires operators to maintain local reserves and imposes trading caps on non-euro-denominated tokens not backed by fiat currency.
Enhancing Investor Protection and Addressing Environmental Concerns
MiCA aims to create a reliable framework that fosters trust through legal certainty. The regulation includes a uniform classification of assets and mandates coin issuers to disclose relevant information in a white paper, such as energy consumption and environmental impact. This increased transparency will help investors make more informed decisions and mitigate the risks associated with investing in cryptocurrencies.
Moreover, every new token will undergo a review to ensure that the underlying business model does not jeopardize the stability of the cryptocurrency, providing additional safeguards for investors. These measures demonstrate the EU's commitment to prioritizing investor protection while addressing the environmental concerns of cryptocurrencies.
The Road Ahead: Compliance and the Future of Crypto Regulation
Crypto firms will have one to two years to prepare for compliance with MiCA before enforcement begins. While stablecoin rules will take effect from July next year, broader regulations for crypto asset service providers and compliance with the Travel Rule will be enforced from January 2025.
In addition to MiCA, EU institutions are finalizing a new Anti-Money Laundering (AML) rulebook and reviewing the EU's main payments directive, PSD2, both of which will significantly impact crypto firms. Furthermore, the European Commission is expected to publish a detailed report on DeFi in about 18 months, potentially leading to additional legislative measures.
Despite its shortcomings, many crypto executives view MiCA as a step in the right direction, offering more guidance than the US enforcement-first approach. This regulatory climate has led prominent crypto companies like Coinbase, Circle, and Binance to expand their European operations. However, as Nana Murugesan, Coinbase's Vice President for Business Development, pointed out, Europe's regulation of crypto remains a "work in progress."
Balancing Innovation and Regulation: The Key to Success
As the EU moves forward with the implementation of MiCA, striking the right balance between innovation and regulation will be essential. Over-regulation could stifle growth and discourage new entrants, while under-regulation could lead to increased risk and market instability. To ensure that the EU remains an attractive destination for crypto businesses and investors, regulators must work closely with industry stakeholders to develop a comprehensive yet flexible regulatory framework that can accommodate the rapidly evolving crypto ecosystem.
Conclusion: A Promising Start with Challenges Ahead
MiCA represents a crucial step forward in regulating the EU's crypto industry. Its successful implementation could provide a significant boost to EU-based crypto businesses and the regional economy as a whole. However, the future impact of MiCA will largely depend on the practical implementation standards developed in the upcoming months and the EU's ability to adapt its regulatory approach to emerging trends in the crypto and blockchain space.
As the crypto landscape continues to evolve, it is essential for policymakers and industry stakeholders to work together to ensure that the regulatory environment remains conducive to innovation, growth, and investor protection. By striking the right balance between regulation and innovation, the EU has the potential to emerge as a global leader in the crypto industry, setting the stage for a new era of digital finance.
---
Please share your thoughts on the article by clicking below Emoji ...
---
Disclaimer
*The information and analysis provided in this article are intended for educational and informational purposes only and should not be considered as financial, investment, or professional advice. While our team strives to ensure the accuracy and reliability of the content, we make no representations or warranties of any kind, express or implied, about the completeness, accuracy, reliability, suitability, or availability of the information presented.
The content within this article may include opinions and forward-looking statements that involve risks and uncertainties. The blockchain and cryptocurrency markets are highly volatile, and past performance is not indicative of future results. Any reliance you place on the information presented is strictly at your own risk. Before making any investment decisions, we highly recommend consulting with a qualified financial advisor or conducting your own thorough research.
By accessing and using the information provided in this article, you acknowledge and agree that neither the authors, publishers, nor any other party involved in the creation or delivery of the content shall be held liable for any direct, indirect, incidental, consequential, or punitive damages, including but not limited to loss of profits, goodwill, or data, arising out of your use or inability to use the information provided or any actions you take based on the information contained within this section.*